Delilah: A Serial Killer Novel with an Unsettling Twist!
by Author, K Lyn Kennedy
★ ★ ★ It's Live! ★ ★ ★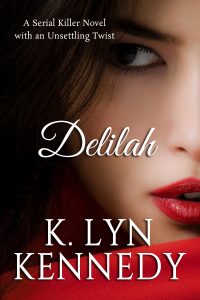 Delilah is beautiful, a temptress… but a killer?
Nothing, oh nothing, could be any sillier.
The men in her life unexpectedly die.
She never has time to tell them bye-bye.
The murders are gruesome, the details so gory.
Only the killer would know the whole story.
She's a minister's daughter, or at least that's the rumor.
Could be a setup by someone who knew her.
DELILAH is on sale now at Kobo, Amazon, Apple, Google, and B&N.
Book Cover: Chloe Belle Arts  🎨
Available at ➡
Google Play: https://play.google.com/store/books/details/K_Lyn_Kennedy_Delilah?id=1zFgDwAAQBAJ
iBooks:
US: https://itunes.apple.com/book/delilah/id1400048008?mt=11
CA: https://itunes.apple.com/ca/book/delilah/id1400048008?mt=11
UK: https://itunes.apple.com/gb/book/delilah/id1400048008?mt=11
UK: https://itunes.apple.com/au/book/delilah/id1400048008?mt=11
Kobo:
US: https://www.kobo.com/us/en/ebook/delilah-12
CA: https://www.kobo.com/ca/en/ebook/delilah-12
Amazon:
US: https://www.amazon.com/DELILAH-Serial-Killer-Novel-Unsettling-ebook/dp/B07FR3W67J
CA: https://www.amazon.ca/DELILAH-Serial-Killer-Novel-Unsettling-ebook/dp/B07FR3W67J
UK: https://www.amazon.co.uk/DELILAH-Serial-Killer-Novel-Unsettling-ebook/dp/B07FR3W67J
AU: https://www.amazon.com.au/DELILAH-Serial-Killer-Novel-Unsettling-ebook/dp/B07FR3W67J
B&N: https://www.barnesandnoble.com/w/delilah-k-lyn-kennedy/1129133544?ean=2940161698815