New Year = New Look
Rogue Series Re-Covered
My first project for 2019:
A successful re-covering of  all four books in the Rogue Romance Series for Author, Lara Ward Cosio!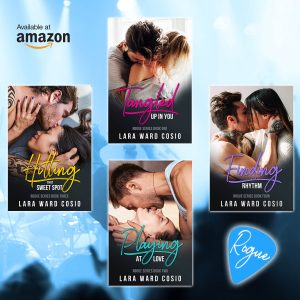 These new covers feature couples since this is truly a contemporary romance series.  This awesome book series features the members of rock band Rogue and their love interests. The idea behind this move is to reach a broader contemporary romance readership as well as continuing its appeal to the voracious rockstar romance community.
For more info on the Rogue Series or to purchase, click on the link below…
★ ★ ★ ★ ★
Author: Lara Ward Cosio

Book Cover Design: Chloe Belle Arts